I Fix Cracked Screens iPad 2, 3, 4 NYC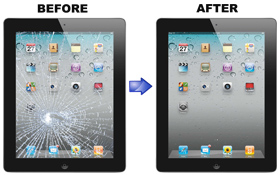 iPad repairs in NY are needed on a regular basis because unfortunately, the iPad, no matter which model you own and no matter how much you spent on it, is prone to damage. Anything that you use on a daily basis is sure to eventually face wear and tear, but sometimes the problems are more severe, like broken glass that negatively affects the experience you have with said device, sometimes even preventing you from being able to use it altogether. If you are looking for a reputable but affordable company to assist you with problems like iPad broken glass in NY, then look no further. We have a team of professionals who would be more than happy to help you out, regardless of the model you own. We have wide ranging skills and a ton of experience. Choose us for the job and you won't be disappointed. We guarantee our results. You can bring us an iPad mini, iPad Air, iPad with Retina Display or any similar device and you can expect high quality results. We only ever use high quality parts to get the job done. Call us if you would like more information or stop by our shop.
We are located at: 75 Nassau Street, NY, NY 10038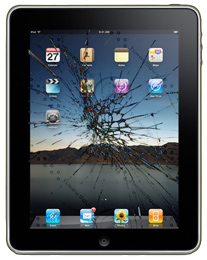 iPad repairs in New York are affordable if you know where to turn to. They are also guaranteed if you go for a company that provides customers with the assurance that they will be satisfied with the results. At I Fix Cracked Screens, we guarantee your satisfaction. We know that if you are happy, that you will refer us to your family and friends. So if the screen broke on iPad with Retina Display, and it is affecting you from being able to use it at all, call us. If you think the iPad Air has a damaged digitizer, let us know. If you need LCD replacement on the iPad mini, our team can do it for you. Are you dealing with water damage on the iPad 2? We have you covered. We understand that you want your device back fast when damage occurs, which is why we always welcome walk-ins to our shop and we do most repairs in just a few minutes. We don't charge you extra for the prompt service – this is something we pride ourselves in and we are happy to offer customers the fast results that they want. So if you're in the Financial District, stop by. We make it so that customers are never tempted to go anywhere else when they require iPad repairs in New York. Locals know that they can always turn to us for the job.
I Fix Cracked Screens is waiting to hear from you. Remember, you can always stop by. Ask us about our qualifications, insurance, warranties or any other questions that you might have. We can offer you a free price quote for the service that you need. We will make sure that the job is done to your satisfaction and we can assure you that you are getting a great rate with us. What are you waiting for? Come to us for iPad broken glass repair in NY and you won't be disappointed.